The unique and clever gull-wing design of Domino V, a 2,308-square-foot home from Franklin Homes, defies its remarkable production cost efficiencies as an off-site-built product with a high degree of energy efficiency that helps lower monthly costs for homeowners, as well.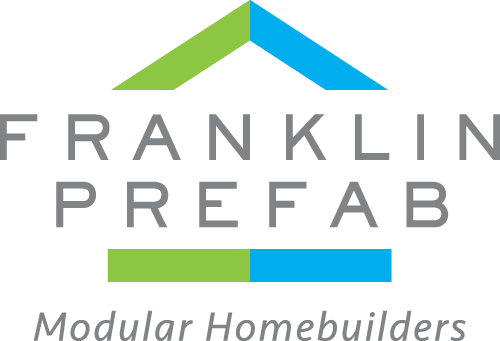 Franklin Homes
Franklin Homes was founded in 1969 in Russellville, Alabama and was among the first modular home manufacturers in the U.S. Franklin has produced thousands of homes in its 50+ year history and has earned a widespread reputation for building the highest-quality modular homes in the industry. In 2015 Franklin Homes was acquired by C3 Design, LLC, which is owned by the founder and former executives of Viking Range Corporation. Franklin Structures, LLC, the name of the company after its acquisition by C3 Design, has over 90 dealers in 14 states and also sells to builders and developers. 
Franklin Prefab is a division of Franklin that focuses on larger, higher-end modular homes that consist of traditional and transitional designs. While Franklin's product line offers the homebuyer a multitude of floor plans and exteriors with an extensive selection of standard and optional materials and finishes, Franklin Prefab can also work with a customer's architect, designer, or builder to produce semi-custom or fully custom designs to meet the customer's specific, individual requirements. 
Domino Prefab is a division of Franklin Structures with a focus on homes with contemporary architecture for the consumer who wishes to go beyond traditional or transitional design for their new home. Domino Prefab offers a wide selection of models and can also work with the homeowner's architect, designer, or builder to make modifications to floor plans, materials and finishes to accommodate individual needs. 
With its flexible engineering and production systems, Franklin Structures also has the capability of producing multi-family and multi-story buildings, both residential and commercial. From duplexes to townhomes to four story apartment buildings and hotels, Franklin engineers can work with the customer's architects and engineers to produce their project with the highest level of quality standards and within a timeframe that cannot be matched by on-site construction. 
Franklin Structures, Franklin Homes, Franklin Prefab and Domino Prefab offer the capabilities of building a wide variety of projects to meet the high expectations of the residential or commercial customer in terms of cost, quality, and timeframe. Modular buildings are the way of the future and Franklin Structures, LLC is at the forefront of demonstrating the many advantages and benefits of offsite construction.